Tyrant Farms is reader-supported. When you buy through links on our site, we may earn an affiliate commission.
Learn more
Use this chickweed recipe to put a delightful cold-hardy culinary and medicinal "weed" to use in your kitchen.
We haven't made any official announcements yet, but I (Aaron) am going to be managing a new farm for Oak Hill Cafe, a farm-to-table restaurant that's scheduled to open in Greenville in 2018. (More on that soon.) Susan The Tyrant will be helping out some as well, and we're also partnering with Chris Miller from Yeah, That Garden Guy on the project.
We're beyond excited to put our years of growing & foraging knowledge to work on a larger scale, while introducing people to foods they've never experienced before! Oak Hill Cafe is owned by a long-time friend, Lori Nelsen, a chemist at Furman University and a dang good cook. The chef is David Porras, an absolute food artist from Costa Rica who trained at Basque Culinary Center in San Sebastian, Spain.
Every time we experience Chef David's creations, we realize how little we know about cooking, and how basic ingredients can be made into exquisite creations in the right hands. Our hope is that the team of people working on Oak Hill Cafe–from the farmers to the kitchen staff to the chef–can elevate Greenville's restaurant scene to the next level while also telling the story of the amazing flora and fauna (much of it from the on-site farm and area forests) that will be served there.
As part of our own self-education process, we've been trying to immerse ourselves in learning more about high-intensity organic farming as well as learning about how great chefs "tick." One of our favorite resources for better understanding chefs is a show called Chef's Table, a Netflix series. The show combines extraordinary storytelling and food education into highly entertaining 1 hour segments about each chef.
A few common themes that emerge:
each chef struggled with their unique ID early in their careers;
each experienced hardship; and
each ultimately had to connect deeply to the local region and culinary traditions where they lived in order to catapult themselves to the top of their game.
It just so happens that the area of the world where we live, Appalachia, is one of the most biodiverse regions on the planet. Our native forests and grasslands can provide boundless supplies of gourmet and medicinal foods for those who know how to ID them. Adding to the rich native biodiversity in our region is an abundance of seldom-used edible plants imported by various waves of immigrants over the past few centuries: daylilies, kudzu, creasy greens/wild cress, and chickweed (to name but a few).
While some of these imported plants have become invasive, such as kudzu, others pose little ecological risk.
Chickweed: An Edible and Medicinal Cold Weather Green
One of our personal favorite edible "weeds" is an annual green that grows from fall through early spring in our area: chickweed (Stellaria media).
Chickweed likely originated in Europe, but has naturalized in virtually every temperate region on earth. It's got a long tradition of being used as an edible green for people and farm animals, and it's also considered to be a nutrient-dense medicinal herb that's used to treat skin conditions and various other ailments.
Another benefit: of all the greens we grow (intentionally or accidentally), chickweed may just be our ducks' favorite. That's why we included it in our list of top-10 plants for chickens and ducks. It earned its common name "chickweed" because chickens also love it.
What does chickweed taste like? Some people say it tastes like spinach. We think it tastes almost exactly like corn silk, those whispy threadlike styles that stick out from the top of an ear of corn. Sweet, earthy goodness.
Chickweed Recipe: Winter Salad
Most of our chickweed goes to feeding our ducks, who then produce eggs for us. However, we love adding chickweed raw to our salads or as a garnish on dishes like chicken pot pie.
If you're a regular reader of Tyrant Farms, you may know that we LOVE making and consuming fermented foods, for both their flavor and health benefits. Well, during a long overdue pantry cleaning, we recently re-discovered a vinegar we made and then promptly lost three years ago. We're pretty confident it started off as kombucha, but that's still a subject of debate.
The interesting thing about many fermented foods is that–within reason–the longer they sit, the more they positively develop, which is why fermentation has been a popular method of food storage for thousands of years. All the beneficial microbes in the fermentation keep pathogens from coming in and getting established ("the hotel has no vacancy"). This is why aged wine and cheese can taste completely different and more complex over the course of many years. Vinegar is the same way.
When we uncorked our long-lost kombucha vinegar, the nose told us it was still good, but way more interesting than when we'd last sampled it. Upon tasting it, we got the standard sharp sweet-sour of vinegar, but also sublime rich and earthy notes that we both identified as tasting like truffles. Win! Now, if only we could figure out how to replicate it.
With garden-fresh chickweed in abundance, plus carrots, radishes, and home-grown blood oranges to play with, we created a delicious raw chickweed salad that we think would be a hit at any fine restaurant.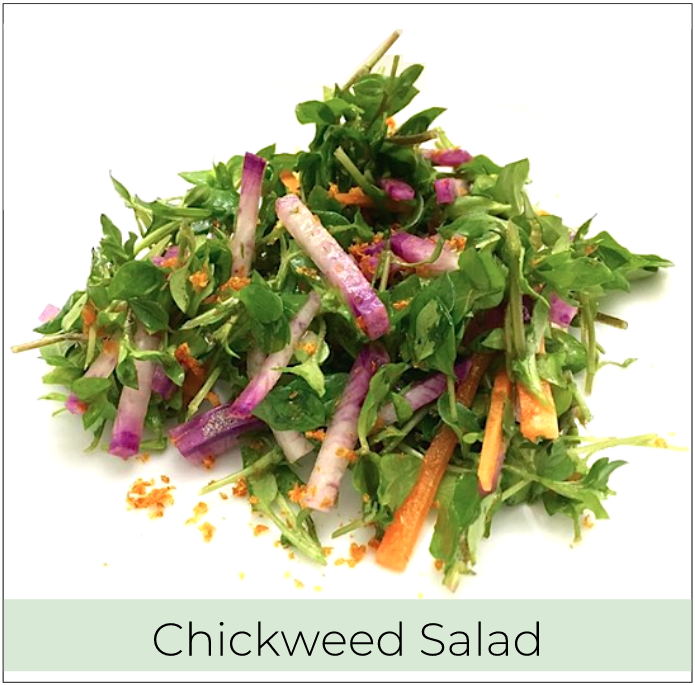 Here's how we made our chickweed salad:
Chickweed salad
Prep time:
Total time:
Ingredients
3 cups chopped chickweed
1/4 cup purple daikon radish cut into small chopsticks
1/4 cup carrots cut into small chopsticks
1.5 Tablespoons organic extra virgin olive oil
1 Tablespoon kombucha vinegar (or use other salad vinegar)
1 tablespoon of fresh lemon juice or blood orange juice
1 teaspoon fresh or dried citrus zest (Meyer lemon or blood orange)
Hawaiian red sea salt or pink sea salt to taste
Instructions
Chop veggies. Chickweed is a very delicate green so you want to balance that with the crunch of carrots and radishes without overwhelming the salad, hence why you want to cut the roots into fine chopsticks.
Combine liquid ingredients in bowl and whisk together. Pour on veggies and toss. Sprinkle on sea salt and toss – taste to make sure it's the perfect amount of salt for your tastes.
Sprinkle on zest once salad is plated.
---
We hope you enjoy this recipe! We also hope you realize that many plants that you might currently consider weeds, are actually quite useful in the kitchen. The key is knowing how to ID and use them.
KIGI,


---

Please be sure to subscribe to Tyrant Farms to see what's in-season out in nature, have fresh seasonal recipes delivered to your inbox and get helpful organic/permaculture gardening & duck keeping tips.